Food
Cheesy Vegetable Soup | The Recipe Critic
Cheesy Vegetable Soup is jam packed with tender vegetables in a creamy cheesy soup.  This soup has amazing flavor and is so comforting in the winter!
The weather has been so weird here in Utah since we got back from Disneyworld.  Not too cold, and today it has been raining.  Utah weather is so strange which means we should brace ourselves for a big snow storm.  That is usually how it works.
But I can't seem to get enough soup this time of year.  It is perfect for a chilly day and so comforting.  Since the New Year is here, it is time for some more veggies since they didn't make much of an appearance for the Holidays!  This soup has so many yummy veggies, and you won't be able to get enough of this creamy, cheesy soup!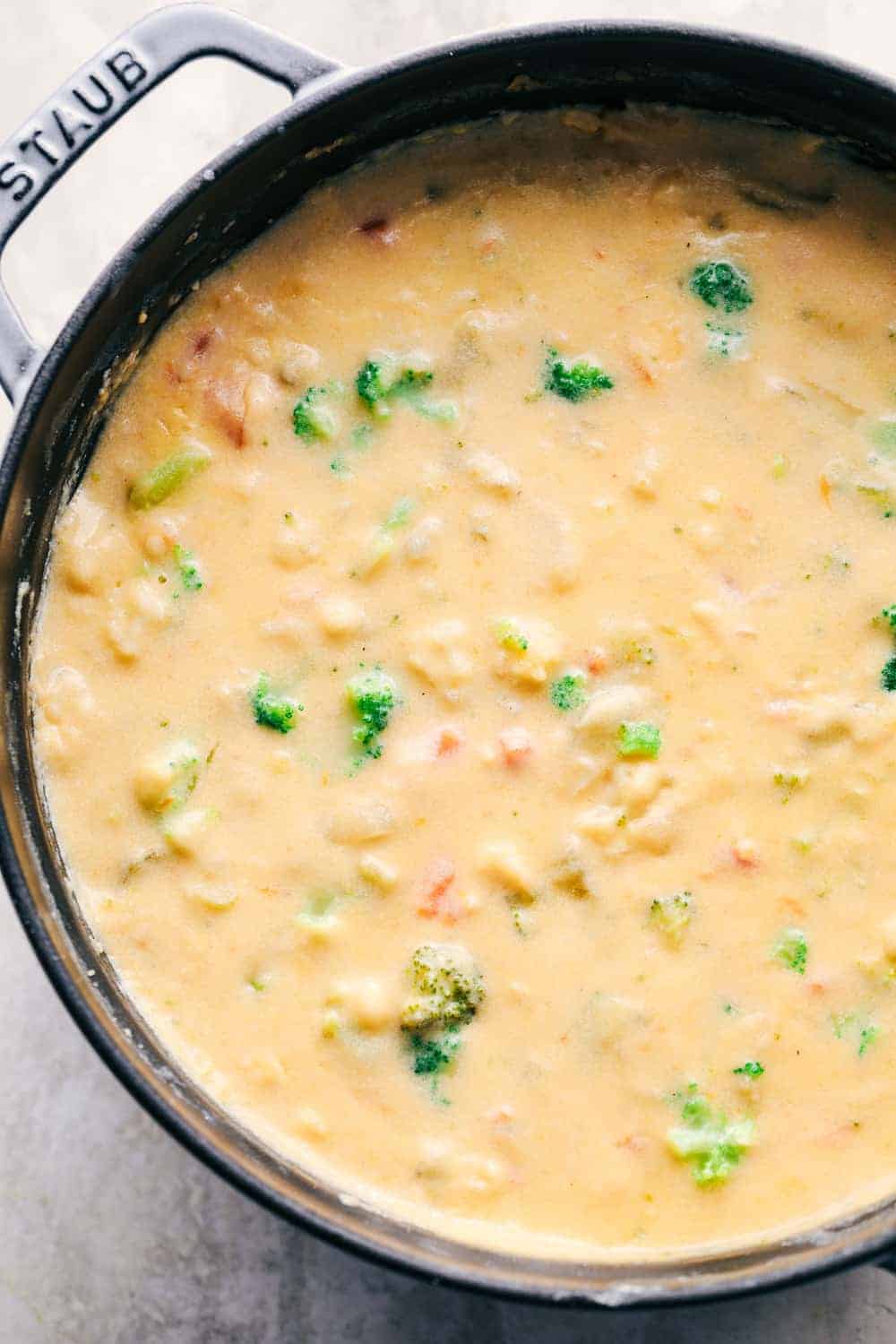 MY OTHER RECIPES
What is in cheesy vegetable soup?
This soup is packed with so many yummy veggies.  Broccoli, Cauliflower, Celery, Carrots, Onions, and Potatoes.  Then it involves a creamy and cheesy base that makes this soup amazing!
Everything combines in this soup to bring you a hearty, veggie-filled delicious soup!  Our entire family loved this soup and it is even better served in a bread bowl.  It makes the perfect healthy soup for a chilly night and will become a new family favorite!
Cheesy Vegetable Soup
6 Tablespoons butter, divided
1 small onion, chopped
1 cup celery, chopped
1 cup carrots, chopped
3 garlic cloves, minced
3 cups chicken broth
3 cups potatoes, peeled and cut into one inch cubes
1 cup broccoli, chopped
1 cup cauliflower, chopped
¼ cup flour
3 cups half and half
2 cups shredded cheddar cheese
Salt and pepper to taste
In a large pot over medium-high heat add 2 Tablespoons butter and melt. Saute onion, celery, carrots, and garlic until tender. Add the chicken broth and potatoes and bring to a boil. Cover and cook for 15 minutes or until tender. Add the broccoli and cauliflower the last 5 minutes and cook until tender.
In a medium-sized saucepan add the remaining 4 tablespoons butter and melt over medium-high heat. Add the flour and create a roux cooking for 3-4 minutes. Slowly whisk in the half and half.
Pour into the soup and stir. Add the cheese and stir. Let simmer until thickened and cheese has melted. Salt and pepper to taste.
3.5.3226
More delicious soup recipes:
I am Alyssa and the blogger behind The Recipe Critic. I started my blog in June of 2012 as a place to share my passion for cooking. I love trying new things and testing them out with my family.